DECEMBER 02, 2019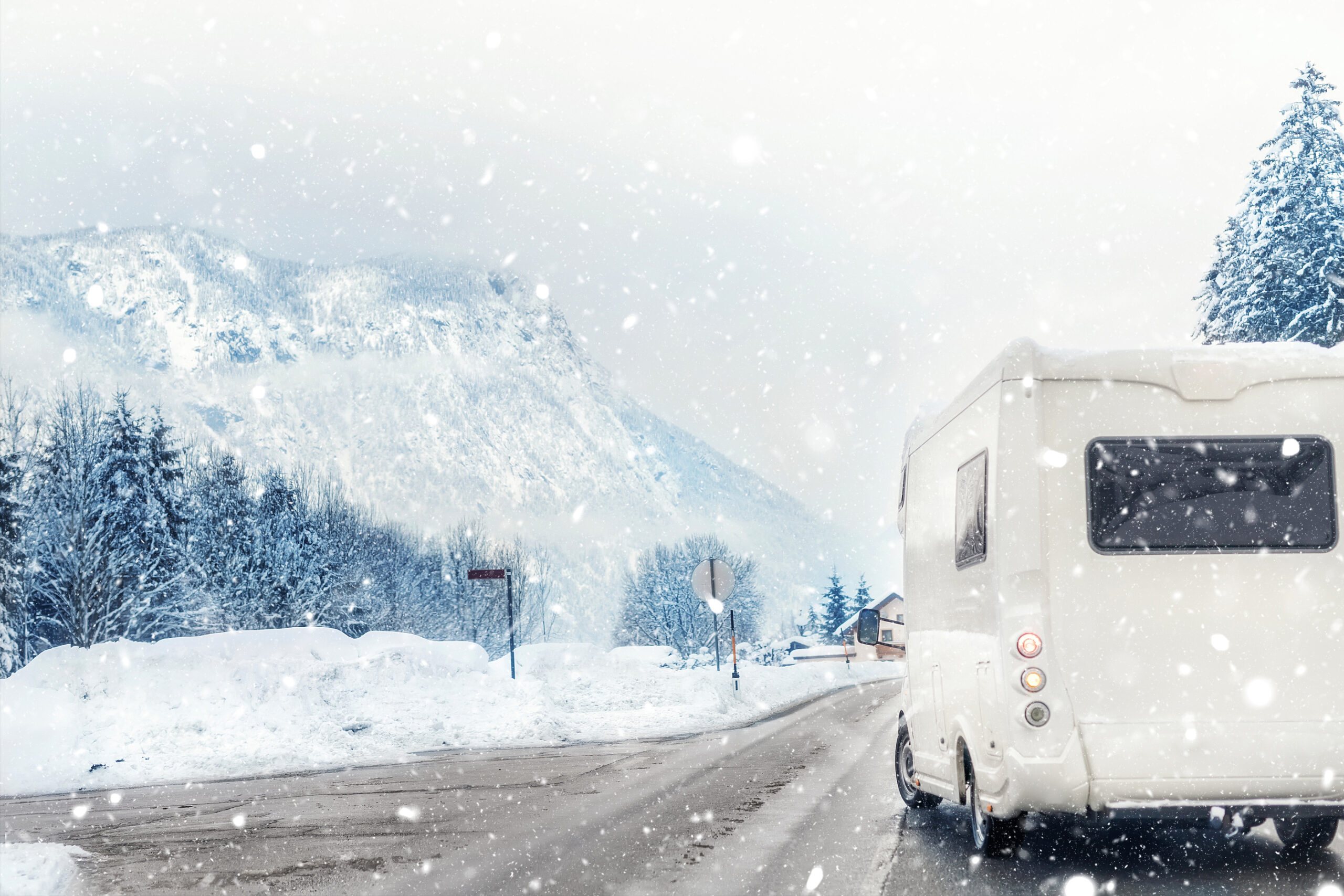 In Part l of "Winterizing Your RV" we explored the best tips for cold-weather travel. However, many RV owners decide to tuck their traveling sleigh away for the winter and spend the season at home.
If you're planning on keeping your RV in one place for the winter months, it's important to select the best storage option as well as take certain precautionary steps to protect it from cold weather elements that can create costly damage.
Where to Store Your RV During the Winter
As you get ready for the winter months, this is the first question you should take into consideration.
While this is mainly a personal decision based on personal preference and expenses, here are some things to consider in regards to at-home versus facility storage:
At home: If you have ample space and are not restricted by state and local laws or a homeowner's association, then parking your RV in your driveway or your garage is definitely an option to consider.
Here are a few additional things to consider:
If you plan to park on your driveway, consider any difficulty you may have maneuvering in and out of the garage as well as available space for other cars.
States, counties, and communities all have specific RV parking regulations as mentioned above, double-check that there are no laws prohibiting street or driveway RV parking
If the goal of storing your RV at home is to save money, be sure to assess the severity of outdoor elements where you live during the winter. Intense weather conditions may cause damages that cost more to repair than the rent of a storage facility.
Most garages are not large enough to hold a RV — even Class B or C models.
At a storage facility: Storing your RV at a proper storage facility is always your best option if you can locate one within your budget. It can be slightly expensive depending on how long you need to store it, but by comparing rates, you can find the most competitive price.
Prepping Your RV for Winter Storage
Once you've decided on the best option for where to store your RV, make sure you are taking all necessary steps for preparing your RV for extended storage.
You may think that if it's stored and not out on the road, then it'll be safe from weather conditions. In reality, winter weather conditions can affect your RV whether it's on your driveway, in a garage, or in a storage unit.
Here's a quick checklist to go through before tucking your second home away for the winter:
For your refrigerator: Defrost the freezer compartment and clean out the refrigerator. Once done, simply leave the doors open and place baking soda in the compartments to absorb any odors.
For long-term storage: keep it plugged from electricity and turn off the main breaker in the power distribution panel.
Turn all LP gas appliances off and turn the LP gas supply valve off.
Close the window blinds to avoid sun exposure to the carpet, drapes and upholstery.
Leave all doors, drawers, and cabinets open.
Clean the A/C filter(s).
If you have vent covers installed on the overhead vents, that prevent rain from getting inside, leave them cracked open to allow for some ventilation.
Remove any dry cell batteries from devices like smoke alarms, clocks etc.
While this might seem like a lot of steps to take before storing your RV during the winter months, it's important to cover all of the bases. The higher attention to detail you have now, the lesser the chance of your camper incurring any damages while in storage.
Looking forward to taking a trip once the weather warms? Ocean Front RV Park in Odessa, Texas is the perfect oasis to escape to as winter fades away into a fresh spring. Check out our website to see what's in store for you!